Equals IW joined local providers at the first Provider Fair held at the Ryde Jobcentre Plus.
Equals IW prepared a stand in partnership with MCEnhancement Training and Development and the Prison Officers Association (POA). Around 12 other local organisations were present.
The aim was for Jobcentre Work Coaches to visit stands learning about the organisations and the range of people those organisations support.
The Jobcentre Plus Coaches could then signpost people they are supporting to the relevant organisations.
Some of the issues with helping people unable to work were
Illness
Disability
Mental well-being
Self confidence and self esteem
Isolation
as well as common problems associated with being unemployed and out of work.
The Provider Fair also let those seeking support from Jobcentre Plus Services engage positively with the appropriate local organisations.
Mark had created a reusable display of material to promote the work of Equals IW. It uses a range of Equals IW resources and photos of recent activities. Mark was able to share the vision and ideas of future Equals IW projects as visitors took an interest in the material on display.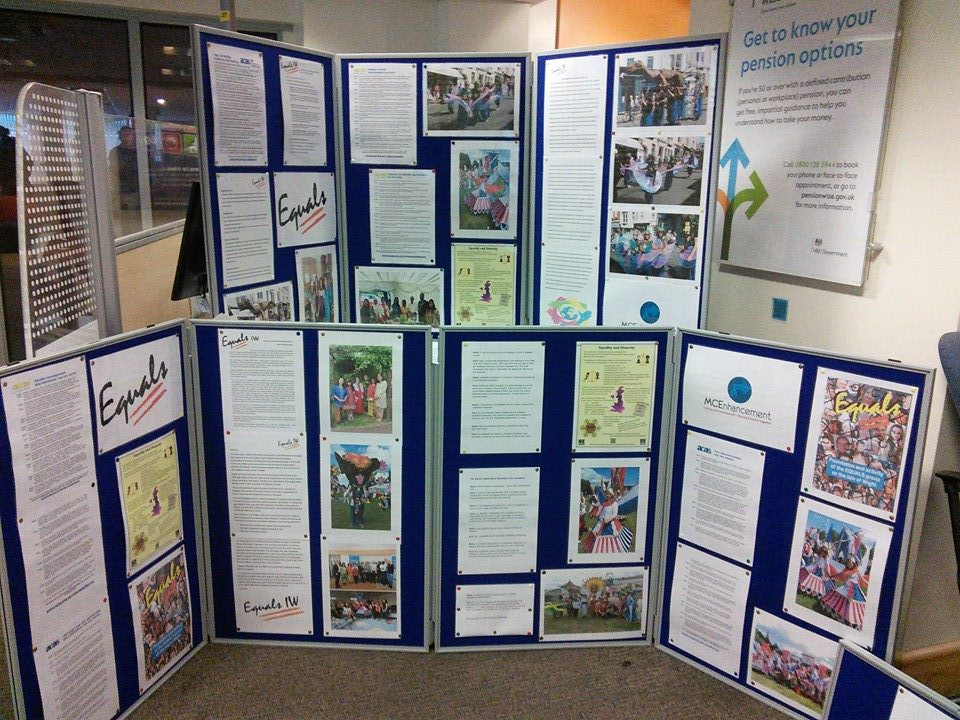 Sandra helped promote Equals IW and POA learning opportunities within the community, She explained how the POA supports the Equals IW Women's Friendship Group. Louis also came along and helped to promote Equals IW for part of the half-day session.
As the first Ryde Jobcentre Plus Provider Fair was successful, a further half-day Provider Fair will be run in the Newport Jobcentre Plus either in October or November 2018.
It would be wonderful to repeat the above experience and promote the work of Equals IW further. If you can give up a morning 9am to 12 Noon then in October or November please get in contact with Mark.
Comments on the Day From Mark
"It was amazingly positive three hour session firstly all the Jobcentre Plus Coaches based from the Ryde Jobcentre Plus Team visited the stand and showed a positive interest in Equals IW. Many Jobcentre Plus Coaches learned about the Women's Friendship Group for the very first time".
"I also had really positive conversations with the Senior Managers of the Jobcentre Plus Provision on the island. They encouraged me to share with them new projects that they would promote and help look at funding through partnership arrangements".
"Sandra and I had visitors to the stand non-stop throughout the Provider Fair and held a number of really positive conversations. We gave out a good number of the leaflets created by Louis. The time just went by and midday was upon us".
"One exhibiting organisation came over to learn more about Equals IW. During our conversation I explained some ideas around future projects and discovered they were really keen to join up and work in partnership with Equals IW. Since the Provider Fair they have made contact by email and plans to meet and discuss further ideas of partnership working are now underway."
"The Provider Fair had an amazing positive atmosphere with not too many local providers on show. I think this helped to ensure we had a good number of visitors to the stand."