Kimmi the 'Great Crested Newt' and the Equals IW Team are Double 1st Prize Carnival Winners At the Country's Oldest Carnival
Equals IW Friendship Group representing Equals IW continued their 1st prize carnival winning success from Newport Illuminated Carnival. The 1st Prize at the Island's biggest and oldest carnival was against very high competition.
The team's entry in this year's Ryde Illuminated Carnival brought joy to those watching the colourful procession through the streets. The costumes were based on woodlands, forest and wildlife associated with Bouldnor Forest which is located near Yarmouth on the Island. The team's entry featured Kimmi the 'Great Crested Newt' and the included a mobile music unit transformed into a mobile forest. The woodland themes on the music unit were hand painted with support for the entry by the Equals IW teams sponsor MCEnhancement.
Bouldnor Forest is an Idyllic nature reserve on the IW Heritage Coast, Hamstead, near Yarmouth and one of the Island's most important pond sites. Its variety of habitats including pine forest, heathland, cliffs and sea grass beds, support diverse wildlife.
The team were entered into the carnival judging competition and impressed the judges with colour, dance and music. The team members celebrated with excitement and joy when awarded 1st prize in the 'Large Groups Fancy Dress' class. This was a second amazing outcome for the team's second ever Illuminated Carnival.
The carnival brought together hundreds of people who lined the streets of Ryde to watch and enjoy the colourful, lighted parade. They enjoyed the music as the procession went past with all the costumes and floats. It was a delight to be part of the parade with a Marching Band from Poole behind us and Kimmi dancing to the beat of the drums.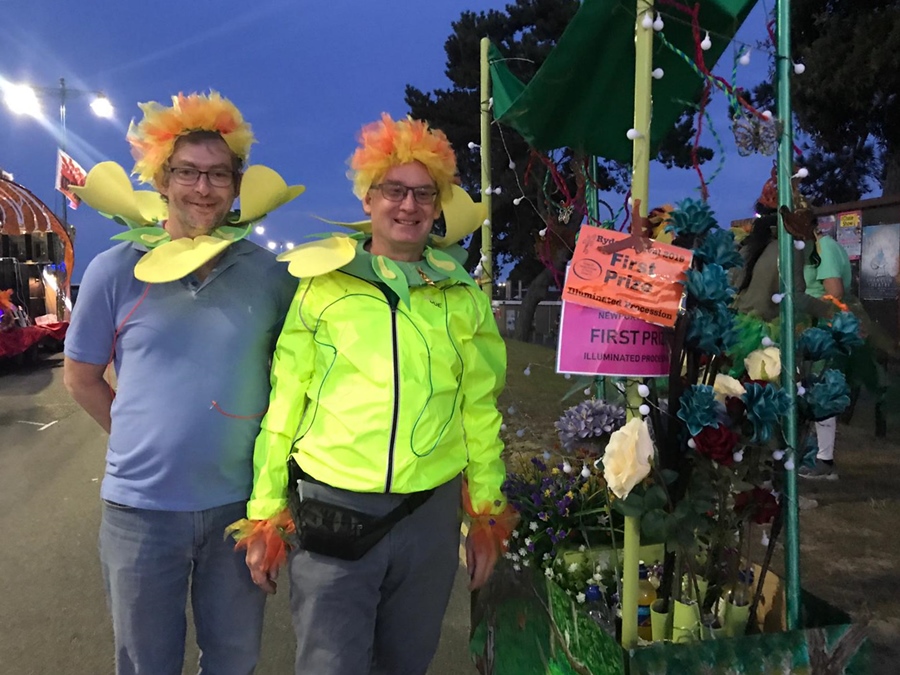 Ryde Illuminated Carnival
Ryde Carnival is considered the biggest and best of all the carnivals on the island. It is the last carnival of the season where each year thousands of spectators crowd the streets of Ryde. Spectacle of colour and music with fantastic floats and flamboyant costumes made sure that this year Ryde did itself and the Island proud. Ryde Carnival is the oldest carnival in the UK dating back to the 1887 Queen Victoria Jubilee who visited the procession. Celebrating its 131st birthday the carnival again proved to be a hit and a very popular draw. People packed out the entire route creating a wonderful carnival atmosphere. The spirit of 1888, when the carnival took place predominately as a release from the corseted constraints of Victorian society, was evident throughout the procession.
Click on the image below to view our gallery
MCEnhancement is delighted to have sponsored the amazing Equals IW Friendship Group and support team members at this year's Ryde Illuminated Carnival and delighted to have worked in partnership with the Equals IW Illuminated Carnival Team and Ryde Carnival Committee for the 2019 procession.